hdo1
Hospitality Design Website
www.hospitalitydesign.com
Banner ads provide a simple, cost-effective way to increase brand awareness and visibility while driving traffic to your site. For added impact, run multiple ad units or purchase all available ad slots for an effective "roadblock" of the site. This is the perfect program for new product launches, event promotion and new branding initiatives.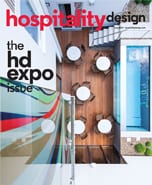 HD Digital Edition Magazine
Expand your brand and product message beyond print and reach an additional 35,000+ subscribers. Your brand strategy manager can outline a number of exclusive marketing options to connect with our digital subscribers. View HD digital edition

HD Now Newsletter
HD Now provides the latest industry, design and green news, as well as the newest innovative product introductions, and highlights one exclusive project from around the world each week. Reach industry decision-makers through their inbox. HD Now delivers your marketing message to 26,000+ subscribers. Click here to subscribe.

HD Product Alert Newsletter
Build brand dominance and product awareness as readers receive the latest in-depth coverage of highly sought-after hospitality products in the HD Product Alert newsletter. Subscribe here.
Email or Postal List Rental
Reach over 31,000+ contacts from interior design firms, architectural firms, hotel/restaurant/developers and purchasing agents using our email service. You provide the HTML file and we send on your behalf with a 100% deliverable guarantee. Email marketing is immediate and can be tracked in real time. Postal list rentals offer use of our 35,000+ contacts through a third-party mail house.

LIVE From HD Expo
LIVE from HD Expo is a customized video opportunity and the perfect long-term companion to your tradeshow marketing efforts. HD will work with you to create a "plug and play" video, allowing you to maximize your tradeshow investment and reach a wider audience of decision makers while we handle the entire technical process for you. Your video shoot will be pre-scheduled and videotaped in your booth at HD Expo. View LIVE from HD Expo 2018!
HD Webinars
Generate qualified leads and position your company as an industry expert and leader in your product category by sponsoring an HD webinar. With the HD brand acting as host, your company will benefit from the magazine's reputation for providing the most trusted and reliable industry content. Click here for more information.
HD Custom E-Newsletters
Reach 36,000 designers, architects, purchasing firms, owner/operators, and other key industry decisionmakers with a custom e-newsletter. This is an exclusive way to promote your products and services, and also educate and inspire HD's influential audience. Click here for more information.
Digital Rates & Opportunities
For more information on Digital rates & opportunities, contact Allie Banks, Digital Sales Account Manager, at (770) 291-5497 or allie.banks@emeraldexpo.com.